You're probably wondering what I mean by the title of this post but I am simply referring to the character from the Japanese movie
Ringu
(aka
The Ring
) where the deceased character
Sadako
says to you on the phone "7 days" after you watch the cursed video tape! So basically today makes it exactly 7 days before I leave for Japan!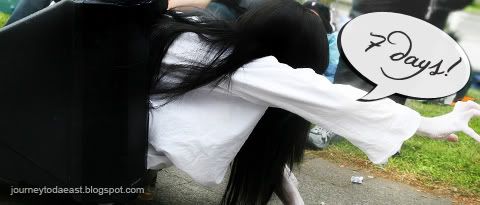 I have been watching
BBC News
as well as
NHK World
nearly every day since the events of March 11th happened. The situation at the Nuclear Plant and the radiation being emitted from there makes me slightly nervous at times. But I know once I get moved from Nagoya to Kumamoto City I will be very far from the plant in Fukushima however I still wonder sometimes if Kumamoto is far enough!
My mother has her own ideas about me going on this trip. But I keep trying to reassure her that after the two weeks I spend in Nagoya I will be even further from Fukushima and the Nuclear Plant. But the fact that I am surround by active volcanoes doesn't help my case about me being safer in Kumamoto. But I know that if things do become too serious I have enough money put aside to leave the country at the drop of a hat.
When I haven't been worrying about my safety in the country I have actually been researching a little more about Kumamoto and the surrounding areas. There seems to be a fairly large community there for expats most of them being teachers participating in the JET Programme. I have also managed to find a few websites with more information about the area. One of the main ones being
Kumamoto International
which is a wiki page all about things in Kumamoto in English that people living in the area have written.
There seem to be many recreational activities to do in the city such as swimming, ice skating, karate, tennis or working out at the gym. As well as the things I just mentioned there are also the standard things you will find such as bowling, the cinema, restaurants and many bars and clubs. I am sure that I can find something in the city to occupy myself with when I am not busy teaching!
I also found out that I can take a ferry from Fukuoka to
Busan, South Korea
for around 25,000yen (£188) return. The journey takes about 3 hours one way and the company
JR Beetle
makes several trips to the city per day. Hopefully I will be able to make this trip at some point of me being in Japan. But for
Golden Week
I hope to go to Osaka since I can't seem to find a cheap guesthouse in Fukuoka.
In regards to actually getting to Japan I believe by the end of this week I will have completed everything that is on my to-do list. Although I haven't actually started packing yet due to me waiting on some clothes I recently ordered to be delivered as well as some other small things. But like I said, hopefully by the end of this week I will have everything sorted.